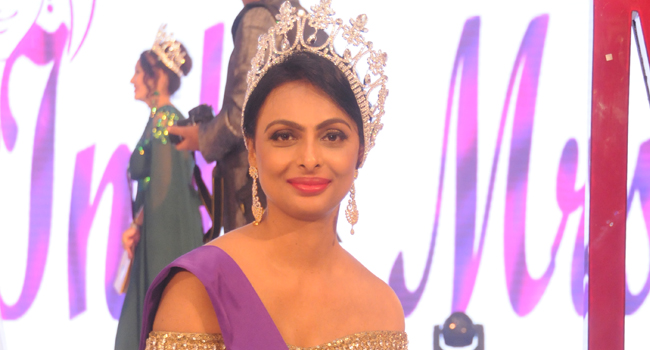 Tripti Aravind from Bengaluru has won the coveted Mrs. India World 2017 title at the pageant held in Chennai. She was among 47 contestants. She will now represent India in the Mrs. World contest later this year. Young Pulse had a lively chat with Tripti.

1. Tell us something about yourself quickly...


Over 12 years of professional experience as an educator, entrepreneur, corporate trainer, professional counselor and HR personnel at premier management colleges, Media houses, IT companies and at NGO's

Enthusiastic, committed educator with innate ability to understand and motivate students

Widely networked with industry executives and academic veterans with a large database of professionals who occupy fairly senior/ top positions in industry

A passionate entrepreneur with leadership experience in diverse work culture and aspirations

Excellent counseling experience which encompasses a range of issues

Conscientious and caring with extensive knowledge of offering advice, support, rehabilitation and guidance

A motivational speaker for the budding young generation of our country

A fashion and beauty enthusiast with few achievements to my credit

2. What are your academic qualifications?

MBA, MPhil and now Pursuing Ph.D in Human Resource Management – The Topic - Diversity Management in Indian IT organizations with special reference to Recruitment.

3. Do you regret not having participated in Miss India?

Definitely not. I wouldn't have been able to do all that which I've done over the past few years like education, training, counseling and now my role as a parent, wife and my responsibilities as an educator. This makes me naturally a positive person and motivates me to achieve my goals every single day.

4. Who do you think was you greatest support?

It is obviously my mother. She is "Heart" of the home. She is the "Light" of learning; she is a "Learner- Teacher" and a "Creative co-ordinator" of total responsibilities. To sum up my mother is all of the above and I want to swap my role of being like her. Also my hubby who stood by me in my journey to being Mrs. India and few friends of mine in all the projects associated with the pageant.

5. What do you think helped you - Hard work or Luck?

I believe hard work is very essential. Also I like being compassionate in the task that I take up. I believe that in anything I do I have to be compassionate to give my best. This helps spread positivity around you.

6. Do you have kids? How many? How do you manage your career and family?

Yes I have a son who is 9 years old. Well I prioritize. However having said this I definitely give a lot of time to my child.

7. What are going to be your future milestones?

I would say representing my country at Mrs. World pageant coming up in the month of Dec 2017.

8. What's your message to youngsters who want to achieve something but are in the rat race to make ends meet?

Arise! Awake! And stop not until the goal is reached. Life might throw us repeated blows and we blame the world. Let us awake and arise out of the present and strive hard till the goals are reached.
COMMENTS
Be the first to Comment!
LEAVE A COMMENT
Disclaimer:
Please write your correct name and email address. Kindly do not post any personal, abusive, defamatory, infringing, obscene, indecent, discriminatory or unlawful or similar comments. YoungPulse will not be responsible for any defamatory message posted under this article.
Please note that sending false messages to insult, defame, intimidate, mislead or deceive people or to intentionally cause public disorder is punishable under law. It is obligatory on YoungPulse to provide the IP address and other details of senders of such comments, to the authority concerned upon request.
Hence, sending offensive comments using YoungPulse will be purely at your own risk, and in no way will YoungPulse be held responsible.